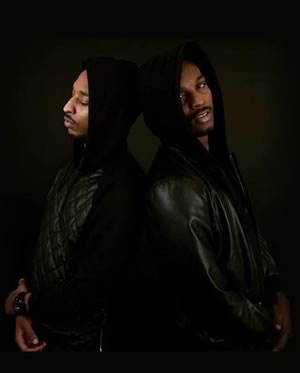 The SAUNDERSON BROTHERS are Dantiez and DaMarii Saunderson, also known in Detroit as the two eldest of the three sons of Kevin and Ann Saunderson. Detroit has always been home even when they moved for a short while. They are the next generation of Detroit musical royalty of music: Soul, Techno, house and now these two grown up children are taking the baton and running with it. No huge surprise when you think of the influences these two grew up with from Carl Craig, Richie Hawtin, Derrick May, Juan Atkins, Stacy Pullen, Kenny Larkin, Underground Resistance and the list goes on.
Being the sons of "Techno's Originator," Kevin Saunderson may seem like it should be a piece of cake, but things are not always as they seem. After some serious soul searching Dantiez, the middle son of the three, decided that his career path would take him on a journey that would actually lead him to follow his passion and that was and is Music. Once Dantiez realized that music was his destiny, he actually helped his father rebuild the infamous KMS studio and appointed himself the new A&R director at his dad's iconic KMS label. Two or three years have passed since Dantiez made this decision and he is wasting no time. He now djs all over the world produces his own music. He has releases out on Nervous, KMS, Toolroom and now the newest release is on the legendary DEFECTED Label from London. You can look out for Dantiez ' solo project, as well as keeping your heads up as he and his older brother, DaMarii set out on their joint adventure and are known as The Saunderson Brothers.
As early as age 11, first born, DaMarii knew of his natural athleticism. In fact, while he was still in high school he was drafted for the Philadelphia Phillies, but life is full of surprises and soon after the drafting, DaMarii sustained a very bad shoulder injury and a change of plan was imminent. When the dust of disappointment finally settled, DaMarii found that his love of music was actually helping to heal his spirit and ultimately led him to the path that he is on now.
The decision to unite and form The Saunderson Brothers was a very natural and organic one, it grew right out of the studio where they practice, produce and even play. 2015 marks the year that this vision will come true and take shape for both of them.
Look out for The Saunderson Brothers