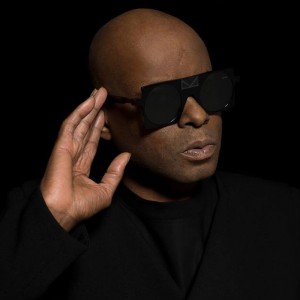 Juan Atkins (born September 12, 1962) is an American musician. He is widely credited as the originator of techno music, specifically Detroit techno along with Derrick May and Kevin Saunderson. The three, sometimes called the Belleville Three, attended high school together in Belleville, Michigan, near Detroit.
Early Life
Born in Detroit, Michigan, the son of a concert promoter, Juan Atkins learned how to play bass, drums, and "a little lead guitar" at an early age. Atkins, along with school friends Derrick May and Kevin Saunderson, tuned in regularly to WGPR to hear DJ Charles "The Electrifying Mojo" Johnson's genre-defying radio show.
At the age of sixteen, Atkins heard electronic music for the first time, which would prove to be a life-changing experience. In late-1990s interviews, he recalls the sound of synthesizers as being like "UFOs landing." He soon had his first synthesizer and abandoned playing funk bass.
"When I first heard synthesizers dropped on records it was great… like UFOs landing on records, so I got one.…It wasn't any one particular group that turned me on to synthesizers, but 'Flashlight' (Parliament's number one R & B hit from early 1978) was the first record I heard where maybe 75 percent of the production was electronic."