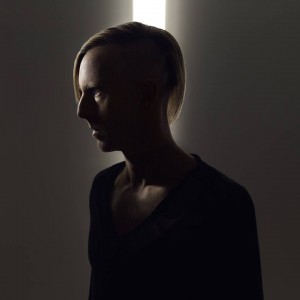 Richard "Richie" Hawtin (born June 4, 1970) is an English-born Canadian electronic musician and DJ and three times DJ Awards winner. He was an influential part of Detroit techno's second wave of artists in the early 1990s and has been a leading exponent of minimal techno since the mid-1990. He is best known for his work under the alias Plastikman and for his ENTER. events in Ibiza and around the world.
Hawtin is known for DJing techno sets making use of laptop computers and digital mixing equipment. In May 1990 Hawtin and fellow second-waver John Acquaviva founded the Plus 8 record label, which they named after their turntable's pitch adjust function. In 1998, Hawtin launched M_nus Records. In summer 2012 Hawtin first presented ENTER., his experimental event at Space in Ibiza.
Hawtin was born in Banbury, Oxfordshire, England, but at the age of nine moved to LaSalle, Ontario, a suburb of Windsor, Ontario across the river from Detroit, the birthplace of techno. His father worked as a robotics technician at General Motors and was a fan of electronic music, introducing his son to Kraftwerk and Tangerine Dream at an early age. He has one brother, Matthew, who is a visual artist and ambient music DJ. Hawtin attended Sandwich Secondary High School in LaSalle. He began to DJ in clubs in Detroit at 17, and his early style was a mix of house music and techno.
With Canadian DJ John Acquaviva he formed the label Plus 8 in 1989 to release his own tracks under the name F.U.S.E., whose Approach and Identify 12″ is closely associated with the origins of the IDM subgenre. He dropped out of the University of Windsor, where he was studying film, and Plus 8 went on to release material by artists such as Speedy J and Kenny Larkin. Hawtin adopted his Plastikman incarnation in 1993 releasing the iconic percussive single "Spastik" and parent album "Sheet One", going on to release breathtaking albums and touring a live show for the next decade.