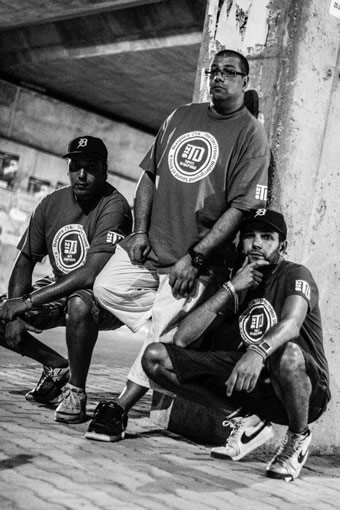 Tunis Diaspora is the project name uniting the 3 Sliti brothers. All 3 born and raised in the area of Ibn Khaldoun in Tunis, they are DJs and producers on their own rights. Their dedication for Detroit and Chicago sounds is a known fact. With their Tunis Diaspora Project they wanted to mix those two influences with their North African and Mediterranean roots. The result is a series of 3 tracker EP's where they will expose their definition of deep house and techno: It is funky, raw and heavy on percussion.
Their story began in the mid-eighties when big brother Mourad got hooked by the hip-hop movement and became a skilled break-dancer, before his passion slipped into creative DJing, which lead him to open his music culture to Jazz, Soul, Funk, R'n'B and later on House, Garage and Techno, always working for the local clubs.
Further to becoming Tunisia's electronic music pioneer, he moved in 1991 to Gothenburg, Sweden where he continued his DJ career. From there he turned to be an important figure of the Swedish club-scene, bringing over and played all over Europe and Asia, also federating worldwide audiences with his popular radio shows broadcasted on stations such as Mark fm, City fm (Sweden) , Selekta (U.S.A), Interface Pirate Radio (UK) and Mfm (Switzerland)… As an accomplished producer, Mourad has released many of his tracks for labels such as, G-Force, Eloge, Rachdingue, Soul People Music, Next Dimension Music, Selekta … and remixed artists like Hakan lidbo, Alton Miller, Manuel Perez or Pawel Kobak.
The second brother of the three – Nabil – started already mixing in 1992/1993 before migrating to Geneva, Switzerland where he also continued his career, establishing himself as one of this country most effective and creative Djs, working for clubs like : Le Pretexte , FBI , Alhambar , Fenomeno, 2eme Bureau, l´Aiglon, l´Ethno, Scandale…which naturally lead him to get into putting up together some nice tracks with his very special energetic touch.
It did not take long before the youngest – Dali – found his place behind the decks.
He followed to the letter what he was taught by his precursors and, just like them, also moved to Europe and chose Paris as a place to live and get inspired by. Before long, he hooked with the essential house players of the French and international scene and got some cool releases on labels like Soul People Music, Selekta …
Geneva, Paris and Gothenburg are a living part of their respective music production, and you can hear it in what they do, but at the end of the day they all meet at the same point if it ain´ t Detroit, it must be Chicago… with on top that unique and specific oriental vibe only them could create… It's a family affair!
There are never many, never enough of them, but there are men born into the world with a gaze fixed on the widest possible horizon. Men who can see without strain, the most distant horizon into that unconquered country we call FUTURE.